Ralph H. Baer
Inducted July 2016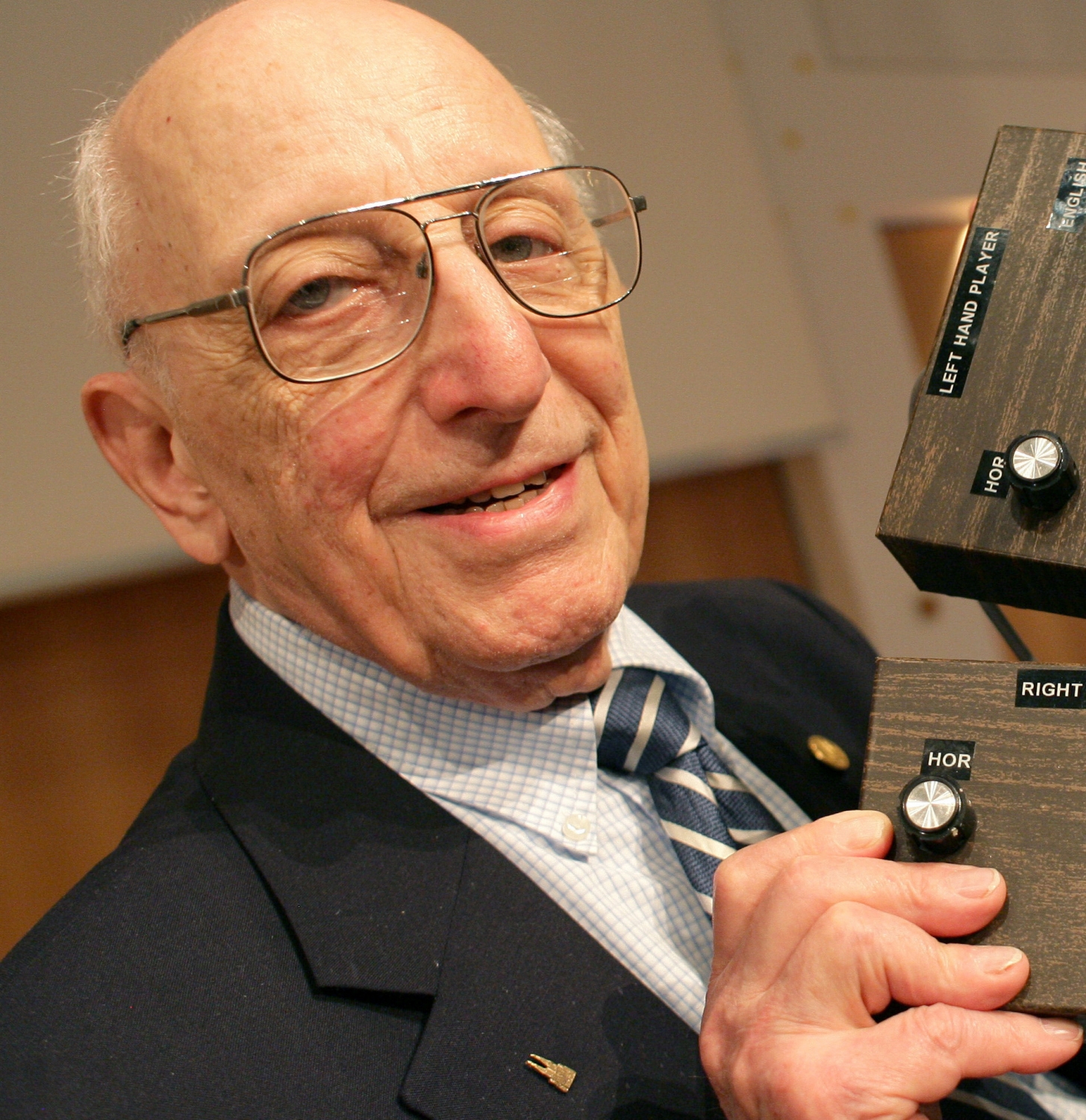 Biography
Ralph Henry Baer, born Rudolf Heinrich Baer, was a German-born American engineer and inventor credited with being the "Father of the Video Game." Born in southwestern Germany in 1922, Baer grew up during Hitler's rise to power.
Facing persecution for being Jewish, he and his family fled to the United States in 1938, where he later became a naturalized citizen.
Pursuing an interest in electronics, Baer enrolled in a radio technician course at the National Radio Institute. Following graduation from the advanced course in 1940, he found a job running several radio service stores in New York City, where he applied his education to servicing all types of home and auto radios. 
In 1943, he was drafted into the U.S. Army and served in military intelligence stationed overseas in France during World War II. After the war, Baer attended the American Television Institute of Technology in Chicago on the G.I. Bill. He graduated with a Bachelor of Science degree in Television Engineering in 1949, and was consistently employed as an engineer afterwards.
In 1956, Baer joined Nashua, New Hampshire-based defense contractor Sanders Associates, Inc. (now a part of BAE Systems, Inc.). While he was there, Baer played a key role in the development of electronic systems for military applications. He worked at Sanders until his retirement in 1987.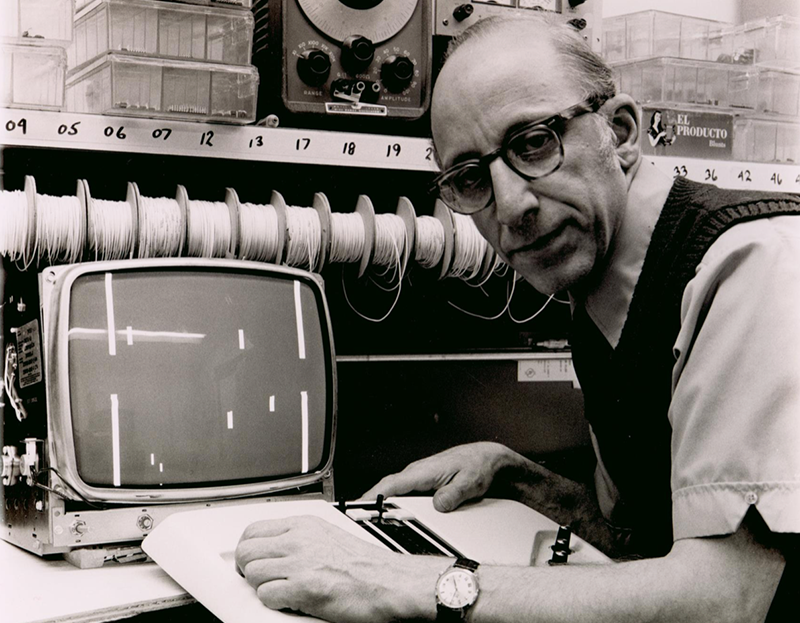 While employed at Sanders,  Baer first started to explore the possibility playing games on television screens. With the reduction in TV prices, he saw a market opportunity for applications outside of standard television program viewing. In 1966, Baer wrote a proposal to convince his supervisors at Sanders to allow him to move forward with pursuing the concept. He was given $2,500 and the time of two other engineers, Bill Harrison and Bill Rusch. Together, they developed the first commercial gaming unit, the "Brown Box Console." Later renamed the Magnavox Odyssey, the console was released to the public in 1972.
Baer went on to develop and patent several other hardware prototypes, consoles and consumer game units, including the electronic pattern-matching game Simon. Simon and its sequel, Super Simon, remained immensely popular in the U.S. through the late 1990s.
Through these inventions, Baer formed a foundation for virtual technology used by the military and like industries to this day. His contributions to innovation changed not only the home entertainment experience, but also Sanders' path for interactive technologies for military applications.
Even after retirement, Baer continued to innovate and invent. In a 2013 NPR interview, Baer compared his need to create to that of a painter, describing it as a desire he could not control and should not cease, as he always saw challenges to be solved. He worked in his basement lab, filled with toys and inventions to inspire him, until his death in December 2014. He has 150 patents to his name.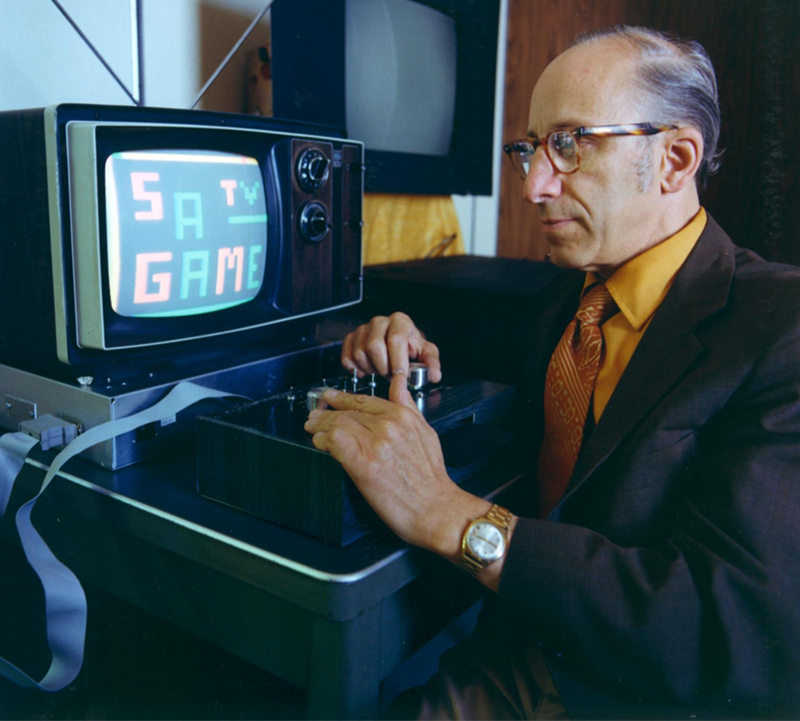 Baer lived in Manchester, New York, with his wife, Dena, whom he married in 1952. Together they had three children and four grandchildren. 
Accomplishments
Beginning with the Brown Box Console's conception, Ralph Baer spent nearly half a century forming the foundation of technology that would lead to major military technology advancements, both in the U.S. and the world.
Through his work for BAE Systems' legacy business Sanders, Baer was instrumental in the development of the video game industry, as well as data visualization and interactive technologies that have still important military applications today. Those include virtual reality environments, which BAE Systems leverages for immersive ship design tools among other applications.
Outside of the defense industry, the legacy of his work has stimulated the national and global economy. Since the invention of the Magnavox Odyssey, the video game industry has grown significantly, generating more than $15.4 billion in sales in 2013 according to an annual report by the Entertainment Software Association. By some estimates, total worldwide sales (including consoles; hardware and software; and online, mobile and computer games) exceeded $90 billion in 2013.
In 2006, President George W. Bush awarded Baer the National Medal of Technology for "his groundbreaking and pioneering creation, development and commercialization of interactive video games, which spawned related uses, applications, and mega-industries in both the entertainment and education realms." He was later inducted into the National Inventors Hall of Fame in 2010. By the time of his death in 2014, Baer had more than 150 U.S. patents to his name.
Other awards and honors include:
G-Phoria Legend Award (2005), given for his legendary video game work.
Honorary Doctor of Law degree from the Franklin Pierce Law Center (2006)
IEEE Masaru Ibuka Consumer Electronics Award (2008), given for his outstanding contributions to consumer electronics technology.
Game Developers Conference Developers Choice "Pioneer" award (2007), given for outstanding game developing.
IEEE Edison Medal (2014), given for a career of meritorious achievement in electrical science, electrical engineering or the electrical arts.
Pioneer Award by the Academy of Interactive Arts and Sciences (2015), given posthumously to recognize his contributions to the advancement of the entertainment software industry.
Baer's lab and invented components are preserved in the west wing of the Smithsonian Museum in Washington, D.C., along with his video game test units, production models, notes, and schematics.
There are also exhibits at the Japan National Science Museum, the Heinz Nixdorf Museum, the American Computer Museum, the Museum of the Moving Image and elsewhere