Lunch and Learn
Periodically the National Center for Simulation in collaboration with membership companies hosts Lunch and Learn events. This is a free event with lunch being provided.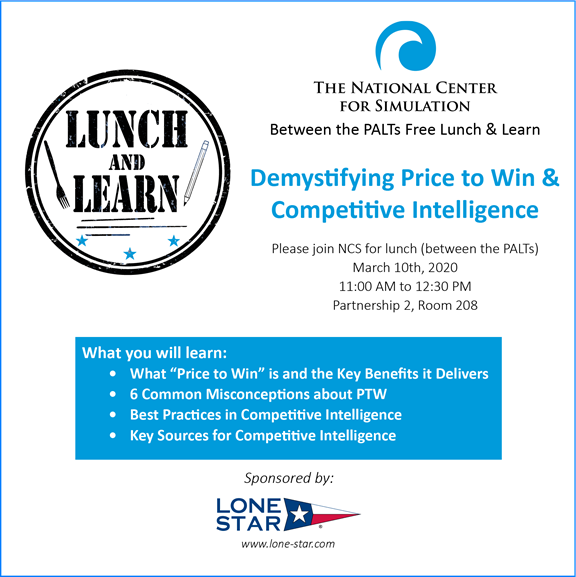 Lone Star and the National Center for Simulation would like to invite you to a free Lunch and Learn in Partnership 2, room 208 between the morning and afternoon PALT sessions. During lunch, there will be a presentation on "Demystifying Price to Win and Competitive Intelligence." The presentation is designed to educate you and your team on how to achieve better results with your Price to Win (PTW) and Competitive Intelligence (CI) strategies.
LUNCHEON DETAILS
Event will be held on Tuesday, March 10, 2020
Lunch: 11:00 am to 12:30 pm
Partnership II Building
Conference Room #208 (2nd floor)
3039 Technology Parkway Orlando, FL 32826
There are a limited number of seats available, so please REGISTER BY MARCH 6 if you plan on attending. The event is sponsored by Lone Star Analysis.
Learn more about the sponsor: www.lone-star.com
REGISTER BELOW: