John C. Hitt Ph.D.
Inducted September 2014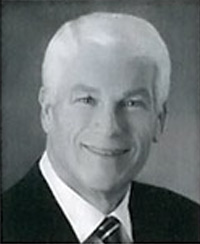 In recognition of his leadership in advancing academic excellence in Modeling, Simulation and Training (MS&T). As President of the University of Central Florida, he created an environment of partnerships, discovery and research while leading the nation in offering advanced degrees in MS&T. Through Doctor Hitt's vision and initiatives, the body of knowledge of modeling and simulation was expanded to support industry and government initiatives across a wide spectrum of applications.
John C. Hitt (born 1940) is an American professor and academic administrator, serving as the fourth and current president of the University of Central Florida in Orlando,Florida since 1992. Hitt was named the Orlando Sentinel's Central Floridian of the Year in 2005, and has twice been ranked as Orlando's most powerful person by Orlando Magazine. Hitt is currently the dean of Florida's university presidents, serving as the longest tenured president in the state.
Early Life
Raised in Houston, Texas, Hitt graduated from Austin College in Sherman, Texas in 1961 with a Bachelor of Science degree in psychology. He continued his education atTulane University, where he completed both his Master of Science and his Ph.D. by 1966. He would stay at Tulane, where his career as an assistant professor began. In 1969, Hitt moved to Texas Christian University, working as an associate professor of psychology. Three years later, he became associate dean of the university, and in 1974, he became vice president of the school's Research Foundation and soon after dean of the graduate school.
After serving as provost and vice president for academic affairs and professor of psychology at Bradley University in Illinois for ten years, he moved to the University of Maine in 1987 as vice president for academic affairs and professor of psychology. Four years later he was named interim president of the school before accepting the presidency at the University of Central Florida.
Hitt was selected by the Florida Board of Regents to succeed Robert A. Bryan as UCF's president. Bryan had been serving in an interim capacity since June 1991 when Steven Altman stepped down as the university's third president.
Raising Standards
Upon taking office in Spring 1992, UCF's enrollment was 20,302, and as of 2012 enrollment consists of 58,698 students representing over 140 countries, all 50 states and the District of Columbia. Under the direction of Hitt, UCF has raised admissions standards, increased research funding, built new facilities, and established notable partnerships with major research institutions.
Hitt's efforts have resulted in not only an increase in the university's academic profile, but also more than $1 billion in new construction, including Bright House Networks Stadium, the CFE Arena, and new on-campus housing. Hitt was instrumental in the development of the UCF College of Medicine at Lake Nona, and the formation of theBurnett Honors College, and the College of Graduate Studies. Under his leadership UCF has become a "very high research activity" university as ranked by The Carnegie Foundation for the Advancement of Teaching.
The Hitt Library
In 2012, the main campus library was renamed in honor of Hitt, UCF's 50th anniversary, followed another key milestone: the 20th anniversary of John C. Hitt as president of UCF. Hitt became the university's fourth president on March 1, 1992, and two decades of remarkable results have followed under his visionary leadership.
During his tenure, enrollment has nearly tripled to almost 60,000 students, and UCF has greatly expanded access to higher education. Typically, UCF sets new school records each year for the quality of its students, the number of transfer students it accepts from community and state colleges, and the number of degrees it awards.
U.S. News & World Report recently rated UCF as the nation's No. 5 "up and coming" university, and the Carnegie Foundation designates UCF with its highest ranking as "a very high research activity" institution. Meanwhile, President Hitt's drive to establish UCF as America's leading partnership university has made UCF synonymous with the progress and prosperity of Central Florida and the Sunshine State.
For instance, the president's persistence in working with state, local, and federal government officials and private businesses led to construction of the UCF College of Medicine at Lake Nona. A cluster of related facilities has resulted in a medical city that is the biggest economic boost for Central Florida since Disney World. By the end of 2017, this collaborative effort is projected to generate 30,000 jobs and an annual $7.6 billion economic benefit for the region.
UCF's rise as a leading major metropolitan research university has brought international distinction to the university and more high-tech jobs to the region. Since President Hitt's arrival at UCF, research funding has escalated from $28.4 million to more than $100 million annually for the last nine years. UCF professors conduct research of global impact on such diseases as diabetes and cancer, and professors and students from various fields work with companies throughout Central Florida. Together, they develop new technologies and innovations that create high-paying jobs as part of the Florida High-Tech Corridor Council.
Corridor Council
President Hitt founded the 23-county corridor council in 1996 with University of South Florida President Betty Castor. The University of Florida has since joined on, anchoring a public-private approach that has generated more than 3,200 jobs with a direct and indirect economic benefit of $1.3 billion. And UCF's national reputation for innovation continues to grow in such areas as optics and lasers, simulation and training, video game production, and hospitality management.
During Dr. Hitt's presidency, UCF has launched more than $1 billion in new construction. The projects include a new stadium, arena, student union center, regional campuses, student wellness center, a visitor information center, and community health clinic. Of the more than 247,000 degrees earned by students during UCF's history, President Hitt has awarded 78 percent of them.
The president's unique approach to tackling opportunities, challenges, and problems has taken UCF from promise to prominence – and it has earned him many accolades. Those include being twice ranked No. 1 on Orlando Magazine's list of Orlando's 50 Most Powerful People and earning the Orlando Sentinel's Central Floridian of the Year award.
Prior to arriving at UCF, Dr. Hitt served as the interim president at the University of Maine. His leadership experience also includes a decade as provost and vice president for academic affairs at Bradley University in Illinois. He and his wife, Martha, whom he met at Austin College in Texas where they both attended, celebrated their 50th wedding anniversary in 2011. They have two children and two grandchildren.
---
A Leader in Higher Education
more than 18 years as president of the University of Central Florida

planned and won approval for a new college of medicine
doubled enrollment with enhanced academic quality
increased by sevenfold the number of doctoral degrees awarded each year
expanded research funding from $6.2 million to more than $121 million a year

more than 36 years of faculty and executive service in academic

institutions o assistant professor of psychology at Tulane University
associate professor of psychology at Texas Christian University
associate dean of Texas Christian University
vice president of the Texas Christian University Research Foundation
dean of the Texas Christian University Graduate School
provost and vice president for academic affairs and professor of psychology at Bradley University
vice president for academic affairs and professor of psychology at the University of Maine
interim president of the University of Maine
Academic Credentials
 graduated cum laude in 1962 from Austin College (B.A. psychology)
 earned master's degree in 1964 from Tulane University (M.S. physiological psychology)
 earned doctoral degree from Tulane University in 1966 (Ph.D. physiological psychology)
 graduate study supported by fellowships from the Danforth Foundation and the National Science Foundation
Current Civic Service Engagements
 member, Metro Orlando Economic Development Commission Fundraising Campaign leadership cabinet
 member, M.D. Anderson Cancer Center Orlando's Council of Governors
 member of the board, American Heart Association
 member of the board, Central Florida Partnership
 member of the board, Metro Orlando Economic Development Commission
 member of the board, SunTrust
 member of the board, United Arts of Central Florida
 member, American College & University Presidents' Climate Commitment Leadership Circle
 chair, Conference USA Board of Directors
Notable Past Service
 two-term past-chair, State University Presidents Association
 member, Florida Council of 100
 founder, Florida High Tech Corridor Council
 two-term past-president, Florida Association of Colleges and Universities
 chair, Governor's Select Task Force on Healthcare Professional Liability Insurance
 member, Florida Distance Learning Task Force
 member, Orange County Chairman's Transportation Commission
 co-chair, Orange County Underage Drinking Task Force
 member of the board, American Association of State Colleges and Universities
 member of the board, EDUCAUSE
 member of the board, Orlando Health
 member of the board, Orlando Regional Chamber of Commerce
 member, NCAA Presidents' Commission
 board chair, Atlantic Sun Conference
Selected Awards and Recognitions
 Junior Achievement's Spirit of Achievement Award, 2008
 multiple listings among the Orlando Sentinel's 25 Most Powerful People in Central Florida and Orlando Magazine's 50 Most Powerful People in Central Florida
 Seminole Chamber of Commerce's Lifetime Achievement Award, 2007
 Orlando Business Journal's inaugural Legacy Award, 2006
 Orlando Sentinel 's Central Floridian of the Year, 2005
 Metro Orlando Economic Development Commission's James B. Greene award, 2002
 Jewish National Fund's Tree of Life award, 1999
 United Cerebral Palsy of Central Florida's Jack Halloway Star of Gratitude, 1999
 Greater Orlando Chamber of Commerce's John Young Award, 1998