Gaetano V. "Vince" Amico
Inducted September 2014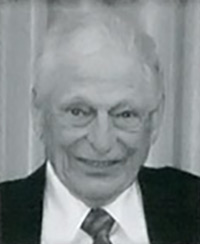 In recognition of a lifetime of dedicated service to the nation in conducting research, engineering and systems acquisition of simulators for the U.S. Navy, Marine Corps and Army. A pioneer in military simulation, he introduced new digital technology, landmass and sensor simulation and improved visual systems into training devices, resulting in more effective training tools for the warfighter.
Vince Amico started his career in simulation when he joined the Special Devices Center in 1948 as a Project Engineer in the Flight Trainers Branch. He was promoted to Branch head, Division head, and then to Chief Engineer of the Special Projects Office. In 1969 he was selected for the Position of Director of Engineering at the Senior Executive level. He was assigned to the position of Director of Research in 1979. He retired in 1981. Since then he has done consulting and taught many short courses on simulation. He has presented papers at The Society for Modeling & Simulation International (SCS) and the Interservice/Industry Training, Simulation & Education Conference (I/ITSEC).
Committees & Fellowships
He was the first Chair of the I/ITSEC Conference. He was member of he Board of SCS and also served as VP Conferences. He is a member of AFCEA, AIAA, NDIA and SCS. He holds BofAE, MBA and MSE degrees. He is member of Tau Beta Pi, Alpha Pi Mu and Sigma XI, Scientific Research Society of America. He is the Industrial Affiliates Coordinator for the Department of Computer Science at UCF. He was member of the initial Board of Directors of the National Center for Simulation and is now the Chair of the Technology Committee.
Mr. Amico served with great distinction and in positions of increasing responsibility with the federal government in Orlando, including Senior Executive Service assignments as Director of Engineering and as Director of Research; and has been a strong supporter of UCF and the Institute for Simulation and Training, and has been instrumental in getting the IST section of the UCF Library up and running; and has served as a Member of the Board of the Society of Computer Simulation, including service as Vice President for Conferences; and has been one of the prime movers behind growing the simulation industry nationwide and in Central Florida, including development of master's and PhD programs in simulation at UCF, developing a professional certification program for simulation professionals, and creating a new set of industrial classification (SIC/MAICS) codes for the simulation industry; and has been the recipient of many professional honors, awards, and recognition, including the I/ITSEC Lifetime Achievement Award and the Society for Computer Simulation Presidential Award; and has created a new scholarship for deserving high school seniors who will study simulation technology, and such scholarship to be named "The Vince Amico Scholarship" in honor and recognition of the many years of service to our community.
Schooling & Societies
Vincent Amico graduated from New York University with a Bachelor of Aeronautical Engineering in 1941.He was awarded a Masters in Business Administration from Hofstra College in 1954 and a Master of Science in Engineering from Florida Technological University in 1973. Mr. Amico worked on the design of naval aircraft as a stress analyst and project stress engineer from 1941 to 1945. He entered the Armed Forces in 1945 and was assigned to the Static Test Unit of the Structures Laboratory at Wright Field as, a structures research engineer.Upon leaving the service in 1947, he joined Republic Aviation Corporation with responsibility for preliminary structural design of missile and advanced aircraft systems.
Amico is a member of Tau Beta Pi and Alpha Pi Mu Honorary Engineering Fraternities, Sigma Xi, the Scientific Research Society, the American Institute for Aeronautics and Astronautics, AFCEA, NCS, NDIA, and the Society for Computer Simulation.