Rear Admiral Fred L. Lewis USN (Ret)
Inducted June 2017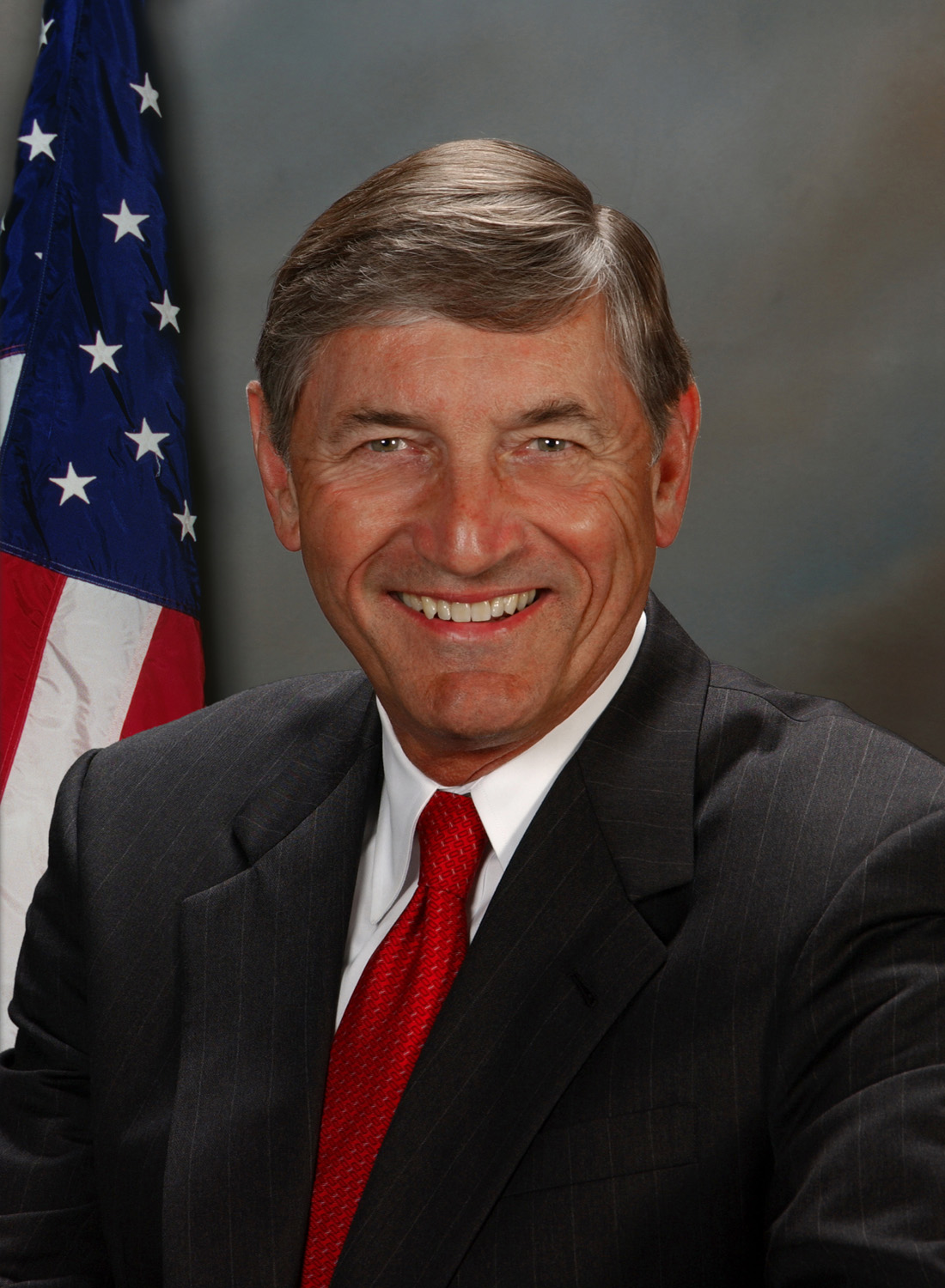 In recognition of Rear Admiral Fred Lewis' significant contributions to the Modeling & Simulation (M&S) community as president, National Training and Simulation Association where he worked closely with government, academic and industry partners to promote the value of M&S as a critical component of economic productivity in the US. In that effort he was instrumental in establishing longstanding, beneficial relationships with Congress and with overseas M&S partners in Europe and Asia. He initiated important core programs to identify and credential a professional workforce, and he established educational programs to stimulate interest in M&S careers at all grade levels. During his nearly 20-year tenure at NTSA, he was personally responsible for the dramatic growth and success of I/ITSEC, the world's premier M&S conference and exhibition. RADM Lewis' extraordinary efforts and dedication have assured the long-term viability of the M&S community and have elevated the stature and importance of M&S throughout American industry at large.
Biography
Fred Lewis, a native of Los Angeles, graduated from the U.S. Naval Academy with the class of 1962 and was designated a naval aviator at NAS Kingsville, Texas in November 1963.
After an initial tour of duty as a flight instructor at Whiting Field, he trained in the F-4 Phantom and participated in numerous operational deployments to the Atlantic and Pacific Oceans and the Mediterranean Sea. During this period of high intensity at sea operations, he deployed twice to the Gulf of Tonkin and carried out combat missions over North Vietnam. Following these combat deployments, he attended the U.S. Naval Test Pilot School, served as an experimental test pilot, returned to sea duty for additional deployed operations, and subsequently led the stand-up of the Atlantic Fleet's F-14 Training Squadron.
Several command assignments followed including his first carrier air wing command when he led the wing in successful operations in the Gulf of Sidra during which his pilots downed two Libyan fighter aircraft. Various staff assignments in Washington, DC followed including participation in the Program for Senior Defense Managers at Harvard University. He subsequently was given his second air wing command when he inaugurated the Navy's "Super CAG" program. It was in this assignment that he was selected for promotion to flag rank.
Flag assignments including Director, Strike and Amphibious Warfare (Pentagon), Commander, Tactical Wings, Atlantic, and Commander, Naval Safety Center followed in quick succession. He was sent back to sea in 1991 as Commander, Carrier Group FOUR and Commander, Carrier Striking Forces, Atlantic. In March 1993 he led the stand-up and became the first Commander of the Naval Doctrine Command located in Norfolk, Virginia.
During his thirty-three year naval career, he accumulated over 6,500 accident-free flying hours in tactical aircraft and over 1,200 carrier arrested landings. He is one of the few Navy TACAIR pilots to be dual qualified in fixed wing and rotary wing aircraft.
Following his retirement from active duty in 1995 he became President of the National Training and Simulation Association located in Washington, DC and served in this capacity until 2012. Significant achievements while at NTSA included inauguration of numerous programs to promote the modeling and simulation community of practice and to elevate M&S technologies to national prominence. His efforts throughout led to a Congressional declaration that M&S is a National Critical technology thus bringing recognition to the fact that M&S is vital to all activities across the U.S. industrial base. Other business activities include director positions on several boards including Draken International, a commercial air services provider to the armed forces, and Chemring Group, Inc., where he serves as Chairman of the Board and Chairman of the Government Security Committee.
In addition to his professional occupation he is a member of the Naval Aviation Museum Foundation Board of Trustees, and as part of these duties he has over the years moderated a series of panel sessions at the annual Museum Symposium which have focused on important historical events in Naval Aviation. He served as a director of the Navy Mutual Aid Association, a naval service life insurance company, is a former Chairman of the Board of the Tailhook Association, and is a member of the Early and Pioneer Naval Aviators Association (Golden Eagles) where he recently served as President.
He is married to the former Allison Marie Griggs of Hobart, Tasmania, Australia. They have two children: Lance, a LtCol in the United States Marine Corps and Ashley, a financial analyst with Capitol One.
Accomplishments
During his almost twenty year tenure as President of NTSA, RADM Fred Lewis, USN (Ret) oversaw the growth of NTSA from a fledgling association to a powerful and well-recognized organization.
Throughout his NTSA career, Lewis was a highly visible figure in the Modeling & Simulation and Training communities. During the years of explosive growth in simulation-based training, he was always front and center at industry gatherings, and was a highly respected spokesman for the community. Lewis worked hand-in-hand with key players in industry – and in the Pentagon and various military training commands – to promote the value of Modeling & Simulation and to push the M&S Community to stand on its own as a profession and identity.
Admiral Lewis also worked tirelessly to build relationships with Modeling & Simulation organizations outside the United States. He served as a member of the Board of Directors of International Training & Education Conference (ITEC) for many years, and was instrumental in the formation of the European Training and Simulation Association (ETSA). Through the formation of the International Training and Simulation Alliance, he also forged long-lasting relationships with industry groups in Australia, South Korea, and Italy among others. He sought to place NATO representatives in prominent roles at I/ITSEC, and worked to increase participation from under-represented nations.
During his career at NTSA, I/ITSEC grew from a mid-sized event (approximately 9,000 attendees and 200 exhibitors) to peak attendance in 2012 of over 20,000 total participants and 500-plus exhibitors. I/ITSEC is now widely recognized as the world's largest Modeling & Simulation event – in no small part due to the extraordinary efforts of Admiral Fred Lewis. Some of his many accomplishments include:
Personally sponsored numerous senior leadership meetings with government and industry – meetings which had great impact on advancing M&S technology to the benefit of the entire M&S community and to national security.
Changed the name of NTSA from the National Training Systems Association to the National Training and Simulation Association, and changed the name of I/ITSEC from the "Interservice/Industry Training Systems & Education Conference" to the "Interservice/Industry Training, Simulation and Education Conference."
Established a strong working relationship with the U.S. Congress which resulted in not only the establishment of the Congressional Modeling & Simulation Caucus but also the adoption of a formal Congressional Resolution declaring Modeling & Simulation to be a National Critical Technology.
Conceived and established the European Training and Simulation Association (ETSA) and the International Training and Simulation Alliance (ITSA). He also established the International Pavilion at I/ITSEC and dramatically grew foreign participation.
Conceived and established the CMSP (Certified Modeling & Simulation Professional) program to further identify and qualify the M&S workforce as a valued talent pool.
Conceived and established the NMSC (National Modeling & Simulation Coalition) effort.
Conceived and established the Future Leaders Pavilion, the first "STEM" initiative of any kind at any NDIA/NTSA event, and also the America' s Teachers at I/ITSEC program.
Conceived and established the Health Care Pavilion at I/ITSEC, to highlight advances in health care and promote the use of M&S in the healthcare arena.
Broadened the scope of the I/ITSEC M&S Scholarship program by unilaterally increasing the number of scholarships awarded each year. The program was rebranded as the RADM Fred Lewis Postgraduate Scholarships following his retirement.
Led a continuing effort to establish NAICS codes for Modeling and Simulation.
Was awarded the I/ITSEC Lifetime Achievement Award in 2014.